Healing Natural Remedies for Inflammation and Pain
Natural supplements are not the same as chemically manufactured medicines. To begin with, they are made of natural ingredients and are less toxic and therefore less harmful to the body, if taken as directed. Even in
low doses, many prescription and over-the-counter drugs are toxic and have short-term negative effects on the liver, kidney and digestive tract. When taken over the long term, or not as directed, the pharmaceutical meds can cause serious organ damage. Why?
Because drugs, unlike natural remedies for inflammation and pain, are created in a lab and our bodies are not equipped to digest and process them. Moreover, drugs are incredibly powerful which gives them the ability to offer fast relief of symptoms, like pain and inflammation. This is good for short-term use, but can be harmful over time. The body just can't metabolize these drugs sufficiently to prevent them causing new damage and side effects.
Natural remedies, on the other hand, are made from the stuff of nature. This includes leaves, twigs, berries, bark, roots, vines, vitamins and minerals. They are natural substances that can't be regulated by the FDA because they are technically foodstuffs. If you understood herbology you could, as many traditional cultures do, adjust your diet to include the herbals in your meals. However, for painful and chronic conditions, like arthritis, this would mean at every meal. Taking these ingredients as supplements to your diet is the way to go.
In addition to the other methods and strategies discussed throughout my book, I recommend taking natural remedies that reduce pain and inflammation, protect joint health and promote healing without side effects. Below I offer an overview of 20 different supplements formulas or ingredients often found within such formulations. Read each, keeping in mind your specific condition and how some may be more effective for you than others.
1. Avocado Soybean Unsaponifiables (ASU)
ASU is a vegetable extract made from the oil of avocados and soybeans that is said to slow the progression of osteoarthritis. It slows down the production of inflammatory chemicals in the body and thus the breakdown of cartilage in the joints. It has also been found to spur new cartilage cell growth. It is available in capsule form at a recommended 300 mg daily.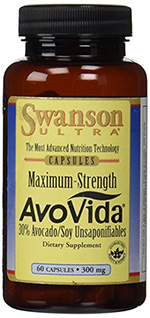 Conscious Lifestyle Recommends:
Swanson Maximum Strength Avocado Soybean Unsaponifiables
Loaded with active phytosterols that provide comforting nourishment to support healthy joint mobility and reduced inflammation. Hypoallergenic formula free of additives and low-quality fillers used by other products.
2. Boswellia Serrata
Boswellia serrata is a traditional Indian Ayurvedic remedy for inflammatory conditions. It is extracted from the gum of the Indian boswellia tree and has been in use for centuries to treat joint pain and inflammation. It provides anti-inflammatory activity in areas where there is chronic inflammation by turning off the pro-inflammatory cytokines that begin the inflammatory process. Moreover, research shows that the acids contained within boswellia extract stop the formation of immune cells known as leukotrienes, which are responsible for inflammation. This then allows blood to flow unobstructed to the joints for healing and improved mobility.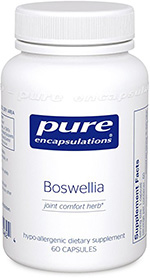 Conscious Lifestyle Recommends:
Pure Encapsulations High Potency Boswellia Extract
Ultra-high quality, high potency Boswellia (frankincense) extract for maximum therapeutic inflammation-reducing effects. Free of all fillers, binders and low quality additives. Ultra pure.